A full hall of the Contemporary Arts Gallery in Yaoundé Messa was the scene of our Green Apéro. Co-organised by the CODENOR and the QNEDD organising committee on Saturday 25 September 2021, this event celebrated youth, the environment, talent and creativity through various environmental articulations.
Co-organisers of the Green apero
From the outset, Dr Florence PALLA from CODENOR took the trouble to set the stage for these exchanges and sharing of experience for a better orientation. Thus, a clear understanding of the challenges of waste and the circular economy was provided by reminding everyone of the importance of their sector of activity for sustainable development.
Indeed, the concept of the circular economy is at the centre of environmental concerns across the globe.
Several actors were able to share their experiences in terms of waste management: the Yaoundé 7 and Yaoundé 2 district municipalities, the YIND (Youth Initiative for Nature and Development) associations, the students' association of the Ecole Normale Supérieure de Yaoundé, Solidarité Technologique and Namé Recycling.
From the presentation of awareness-raising activities of various dynamic youth associations, through the themes of recovery of electrical and electronic waste (by Solidarité Technologique), plastics (by Namé Recycling) and plants (through the work done by students and teachers of the Mechanical Engineering Laboratory of the Ecole Nationale Supérieure Polytechnique de Yaoundé), several sessions were held during the day.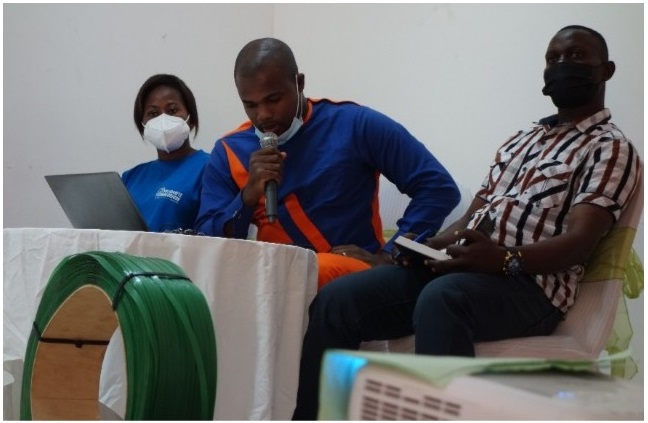 Representatives of non-organic waste management companies Solidarité Technologique and Namé Recycling
The National Fortnight for the Environment and Sustainable Development (QNEDD)
This event marked, among other things, the closing of the activities of the 1st edition of the QNEDD and the launch of its 2nd edition.
The young people of the QNEDD association received their certificates of participation from the hands of the high officials present.
Presentation of certificates by Dr Florence PALLA
This Green Apéro raised awareness of the concept of the circular economy both in person and online. Students were encouraged to find sustainable economic development solutions based on the challenges and opportunities presented to them by businesses.
The overall objective of this Green Apéro, which was to provide students, companies and authorities with waste management strategies, was achieved.
Dr PALLA Florence, in her closing remarks, invited us to come back for more.
Interlude: demonstration of the disposal of plastic bottles